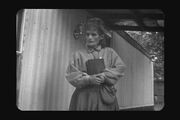 Mary Brown (born 1931) was woman who has lived in Burkittsville all her life. She once saw the Blair Witch near Tappy East Creek in the form of a hairy, half-human, half-animal beast.
Mary was interviewed by Heather Donahue in October of 1994 for her documentary on the Blair Witch, where she told of her encounter.
Ad blocker interference detected!
Wikia is a free-to-use site that makes money from advertising. We have a modified experience for viewers using ad blockers

Wikia is not accessible if you've made further modifications. Remove the custom ad blocker rule(s) and the page will load as expected.