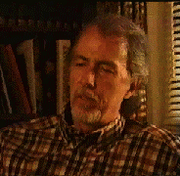 David Mercer was an anthropology professor at the University of Maryland in the mid-1990s.
Biography
Edit
While performing an archaeological dig in 1995 on the foundation of a colonial era house, one of Mercer's students, Peter Gould, discovered a dirty old backpack underneath the sterile, undisturbed soil of the house. Inside the bag they found some cameras, tapes, and film equipment. It was later determined that the equipment had belonged to the filmmakers who had gone missing a year earlier.
Mercer was interviewed for the documentary Curse of the Blair Witch in 1999. In it, he stated that there is no scientific explanation for how the backpack was buried.