Coffin Rock, sometimes called Coffin Hill, was a large flat rock located in the Black Hills Forest in Maryland about twenty minutes from Burkittsville. It was easily accessible by an old logging trail. The name was a common term used by trappers.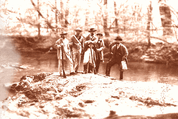 In March of
1886
, eight-year-old
Robin Weaver
was reported missing and search parties were dispatched. Although Weaver returned, one of the search parties did not. Their bodies were found weeks later at Coffin Rock, tied together at the arms and legs and completely disemboweled.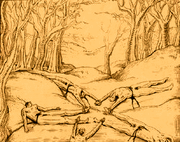 In November
1994
,
Heather Donahue
,
Joshua Leonard
and
Michael Williams
hiked into the woods, headed to Coffin Rock, but were never seen again.